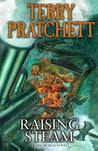 Raising Steam by Terry Pratchett
My rating: 3 of 5 stars
Even a mediocre Discworld book is still pretty good. In the Discworld series, the Moist von Lipwig books are solidly at the bottom. They're as much about the city of Ankh-Morpok and the steady march of progress as anything else, and Raising Steam is no exception, with the invention of the locomotion. Unfortunately a good chunk of the novel is spent on a wider lens look at the city, the inventors, and the Patricians' machinations.
I do adore the Patrician but it's mostly a snooze-fest, and I never did care about the locomotion pair of Dick and Harry, whom we spend a lot of time with.
The final third of the book picks up steam (sorry) into a nice little ending, and I did love the inclusion of Commander Vimes and the City Watch as supporting characters.
Note that although it's a Moist book, the surrounding plot is a sequel to the Troll-Dwarf war story in Thud!, nearly making it required reading to know what's going on. Of course, you've already read all the Discworld books, right?