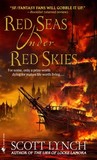 Red Seas Under Red Skies by Scott Lynch
My rating: 4 of 5 stars
I still enjoy Scott Lynch's writing style and characters, but this follow-up to The Lies of Locke Lamora is a bit too bloated, resulting in some odd pacing issues.
We don't get to the pirate stuff (as evidenced on the cover) until much later in the book; until then it's a casino heist that only circles back around at the very, very end. The casino heist peters out but the entire pirate plot line is absolutely fantastic, with a rich cast of characters and some much deeper emotional stakes.
Red Seas Under Red Skies thus ends up too long and too grandiose for its own good. A few chapters early on even add an additional timeline of events that happened after LoLL but before this one. They're not bad at all, and I continue to enjoy learning more about this relatable fantasy world, but it makes getting through the first half of the book much more of a slog than it should have been. Thankfully the ending climax ramps up very nicely – I devoured the last 100+ pages in about a day.
Overall a worthy sequel but I wish it had done a bit less and focused entirely on the pirate plot line of the latter half.